The Best Time To Sell Your House Is When Others Aren't Selling
If you're thinking about selling your house, you should know the number of homes for sale right now is low. That's because, this season, there are fewer sellers listing their houses for sale than the norm.
Looking back at every April since 2017, the only year when fewer sellers listed their homes was in April 2020, when the pandemic hit and stalled the housing market (shown in red in the graph below). In more typical years, roughly 500,000 sellers add their homes to the market in April. This year, we saw fewer than 400,000 sellers entering the market in April (see graph below):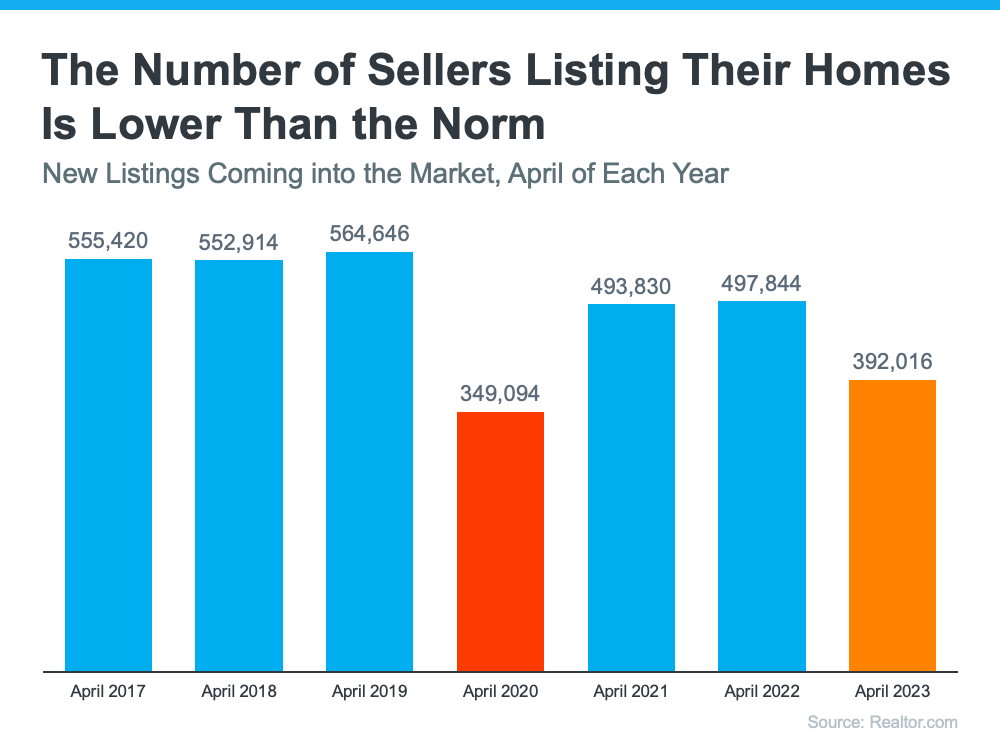 While there are a number of factors contributing to this trend, one thing keeping inventory low right now is that some homeowners are reluctant to move when the mortgage rate they have on their current house is lower than the one they could get today on their next house. It's called rate lock.
As a recent survey from Realtor.com explains, 56% of people who are planning to sell in the next 12 months say they're waiting for rates to come down.
While this wait-and-see approach is right for some sellers, it also creates an opening for more eager sellers to jump in now.
If your current house truly doesn't fit your needs anymore and you're ready to move, don't miss this chance to stand out. When fewer sellers are putting their homes up for sale, buyers will have fewer options, so you set yourself up to get the most eyes possible on your house. That's why your house could see multiple offers as buyers compete over the limited supply of homes for sale – especially if you price it right.
As Lawrence Yun, Chief Economist at the National Association of Realtors (NAR), says:
"Inventory levels are still at historic lows . . . Consequently, multiple offers are returning on a good number of properties."
Read from source: "Click Me"
---
Questions, Comments or For more information you can call
Christian Penner Branch Manager at 561-316-6800 or email us at TheMortgageTeam@ChristianPenner.com
Approval Hotline: 561-316-6800

---
Helping You Achieve the American Dream of Home Ownership
Or You can click "Call Me" below to call Christian Penner directly using Google Voice
---
[mk_padding_divider][mk_blockquote font_family="none"]
Christian Penner, Branch Manager Mortgage Broker West Palm Beach talks about Real Estate West Palm Beach. He also serves other Local Areas and provides home Mortgage Solutions for Palm Beach Gardens, Jupiter, Boca Raton, Wellington and Tequesta. Christian Penner Mortgage Broker Jupiter has the lowest mortgage rates and the best home mortgage programs like; Jumbo loans, FHA Home Loans, VA Home Loans, Reverse Mortgage Home Loans, Freddie Mac Home Loans, Fannie Mae Home Loans and HARP Mortgage Loans. Christian Penner Mortgage Broker Palm Beach Gardens has Served the area for over 18 years with his Home Loan Lending Needs and Works with The Christian Penner Mortgage Team.
Ask Me About A Mortgage, Palm Beach Mortgage Lender, West Palm Beach Mortgage Lender, Palm Beach Gardens Mortgage Lender.
[/mk_blockquote]
– – –
---
ChristianPenner.com
http://www.christianpenner.com/the-best-time-to-sell-your-house-is-when-others-arent-selling/
– "The Best Time To Sell Your House Is When Others Aren't Selling" –
The Christian Penner Mortgage Team | Cell/Text: (561) 316-6800