Homeowners Have Incredible Equity To Leverage Right Now
Even though home prices have moderated over the last year, many homeowners still have an incredible amount of equity. But what is equity? In the simplest terms, equity is the difference between the market value of your home and the amount you owe on your mortgage. The National Association of Realtors (NAR) explains how your equity grows over time:
"Housing wealth (home equity or net worth) gains are built up through price appreciation and by paying off the mortgage."
How Your Equity Can Help You Achieve Your Goals
The equity you build up over the years can be used to your advantage when you sell your current house and buy your next home. If you no longer have the space you need, it might be time to move into a larger home. Or it's possible you have too much space and need something smaller. No matter the situation, your equity can be a powerful tool you can use to help you make a move in today's market. That's because it may be some (if not all) of what you need for your down payment on your next home.
And how much equity you have may surprise you. A recent survey from Realtor.com finds many homeowners today estimate they've built up a significant amount of equity: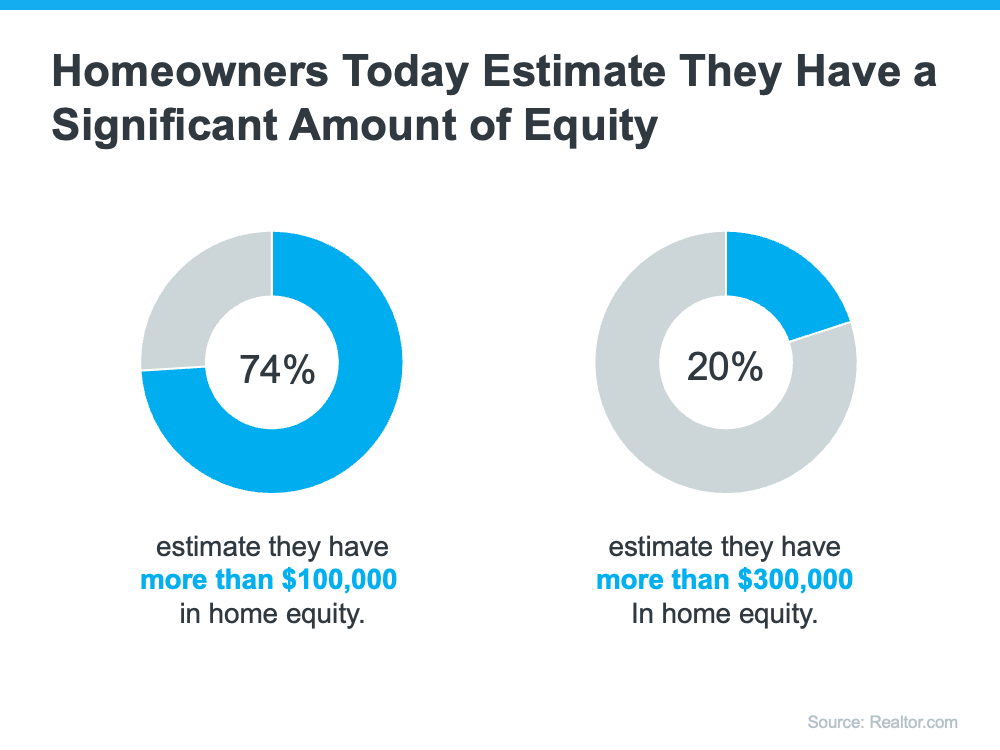 The latest data from CoreLogic helps solidify why homeowners are feeling so good about the equity they've likely gained over time. As Selma Hepp, Chief Economist for CoreLogic, says:
"While equity gains contracted in late 2022 due to home price declines in some regions, U.S. homeowners on average still have about $270,000 in equity, nearly $90,000 more than they had at the onset of the pandemic."
If you're looking to leverage your equity to boost your buying power in today's market, having a trusted agent by your side makes a difference.
A real estate professional can help you better understand the value of your home, so you'll get a clearer picture of how much equity you likely have. As a recent article from Bankrate says:
"Hiring a skilled real estate agent can give you a realistic estimate of home prices in your area and how to price your current home. Using that figure, you can calculate how much equity you have and what your net proceeds will look like, so you can apply that money toward the down payment and closing costs of your new home."
Having a solid understanding of your equity is key when it comes to making decisions about buying or selling your home. A skilled agent can help you navigate the often-complicated process of selling your house and ensure the transaction goes smoothly.
Read from source: "Click Me"
---
Questions, Comments or For more information you can call
Christian Penner Branch Manager at 561-316-6800 or email us at TheMortgageTeam@ChristianPenner.com
Approval Hotline: 561-316-6800

---
Helping You Achieve the American Dream of Home Ownership
Or You can click "Call Me" below to call Christian Penner directly using Google Voice
---
[mk_padding_divider][mk_blockquote font_family="none"]
Christian Penner, Branch Manager Mortgage Broker West Palm Beach talks about Real Estate West Palm Beach. He also serves other Local Areas and provides home Mortgage Solutions for Palm Beach Gardens, Jupiter, Boca Raton, Wellington and Tequesta. Christian Penner Mortgage Broker Jupiter has the lowest mortgage rates and the best home mortgage programs like; Jumbo loans, FHA Home Loans, VA Home Loans, Reverse Mortgage Home Loans, Freddie Mac Home Loans, Fannie Mae Home Loans and HARP Mortgage Loans. Christian Penner Mortgage Broker Palm Beach Gardens has Served the area for over 18 years with his Home Loan Lending Needs and Works with The Christian Penner Mortgage Team.
Ask Me About A Mortgage, Palm Beach Mortgage Lender, West Palm Beach Mortgage Lender, Palm Beach Gardens Mortgage Lender.
[/mk_blockquote]
– – –
---
ChristianPenner.com
http://www.christianpenner.com/homeowners-have-incredible-equity-to-leverage-right-now/
– "Homeowners Have Incredible Equity To Leverage Right Now" –
The Christian Penner Mortgage Team | Cell/Text: (561) 316-6800